Découvrez toutes nos infos touristiques au départ de Mailly-le-Château. Profitez d'un agréable moment sur le canal du Nivernais en louant un bateau ou une péniche sans permis et découvrez un environnement naturel totalement préservé.
Navigating on the Nivernais Canal
Traversing a 174km, the Nivernais Canal is the link between the Loire and Seine basins in the Nièvre department. The ancient axis of communication, this canal created the connection between Clamecy and Paris which allowed timber to be transported towards the capital.
Today it is considered one of the most beautiful canals in France, the Nivernais Canal has been strongly marked by its history as its works of art testify (vaults, tunnels, locks and a drawbridge.)
Filled with picturesque scenes, this canal is paradise for all those who love nature and will allow you to relax in a calming area, or to participate in a short bike ride along the towpaths…
Pour connaître les infos touristiques au départ de Mailly-le-Château, vous pouvez naviguer dans la carte en cliquant sur les différentes villes du menu ou naviguer directement dans la carte avec votre souris.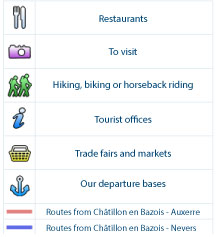 To See :
The St. Martin's College, the chuch of Bethléem and the museum of Romain-Rolland de Clamecy, the remaining fossils at Yonne, the ruins of Chevroches (monumental basin) and the chateau of Vezelay.
To Taste :
Villiers-sur-Yonne wines, Clamecy sausages, fois gras, goat cheese, Morvan honey (one of the largest honey producers in France), Burgundy wines (from the Mâconnais vineyards, Côte de Beaune, Côte de Nuits, de Chably and the Auxerrois)
Most Important :
the Nivernais tunnels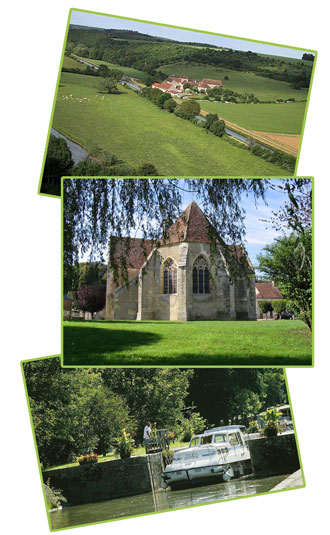 From Mailly-le-Château :
Week-end
Mailly-le-Château – Vermenton – Cravant-Bazarne – Mailly-le-Château : 36 km – 20 locks – 10 hours
Mini week
Mailly-le-Château – Tannay – Mailly-le-Château : 92 km – 42 locks – 22 hours
One week
Mailly-le-Château – Clamecy – Corbigny – Mailly-le-Château : 128 km – 66 locks – 36 hours
One way Mailly-le-Château – Châtillon-en-Bazois : 90 km – 71 locks – 31 hours
Two weeks
One way Mailly-le-Château – Briare : 262 km – 99 locks – 61 hours