Discover all our tourist information from Louhans. Go off to explore the Country of Bresse Bourguignonne and navigate the Saône or the Seille by renting a boat without licence. Visit Louhans, livened up city and pitoresque, and discover the Nature reserve of Truchère Ratenelle.
By going to Louhans, go off to explore the Country of Bresse Bourguignonne, territory alive and livened up, situated between the foothills of Jura in the East and the banks of the Saône on the West. You will discover its nature reserve and its numerous varied landscapes. Its nautical stopping place will welcome you and will allow you to leave your boat a few hours to discover the beauty of the village.
Navigation on the river Saône :
The river Saône travels through the hills of some of the most famous vineyards of the Chalonnaise region, from the Mâconnais to the Beaujolais, you are sure to find a wine to your taste. Flowing gently onwards the river Saône will take you past fortified villages and into a true fishermen's paradise where the slow and regular flow of the river make fishing easy and relaxing.
Navigation on the river Seille :
This river is a tributary of the River Saône, it flows away from its source, Baume les Messieurs (Jura), into the river Saône at La Truchère. A tranquil river possessing many trout, it flows for over a hundred kilometres. Towards its mouth, it forms a network of lakes, dunes and marshy bogs which create a natural environment for may rare and endangered species of migratory birds.
To know the tourist information from Louhans, you can navigate in the map by clicking the various cities of the menu or to navigate directly in the map with your mouse.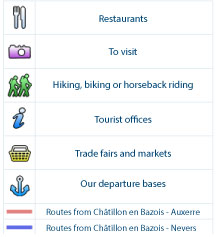 To See : Louhans is a livened up and picturesque city with her main street lined with 157 arches and facades of the XVIth century.
To Taste :
Traditional Burgundy cuisine and wines.
To Know :
Every Monday morning the famous market farmer takes place in the city of Louhans.
Most Important :
The Nature Reserve of Truchère Ratenelle where you can discover a mosaic of very different natural habitats…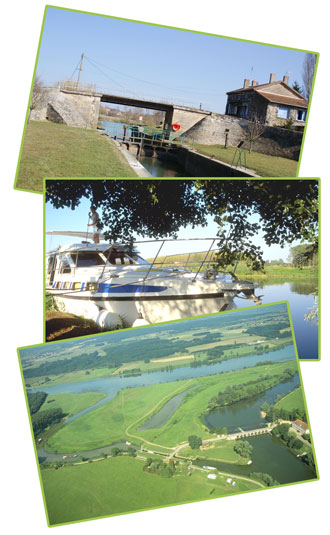 From Louhans :
Week-end
Louhans, La Truchère, Louhans : 76 km, 6 locks, 12 hours
Mini week
Louhans, Châlon-sur-Saône, Verdun sur Doubs, Louhans : 200 km, 10 locks, 22 hours
Louhans, Mâcon, Tournus, Châlon sur Saône, Louhans : 196 km, 10 locks, 21 hours
One week
Louhans, Châlon-sur-Saône, Santenay, Saint Léger sur Dheune, Louhans : 22 km, 42 locks, 35 hours
Louhans, St Jean de Losne, Louhans : 270 km, 14 locks, 28 hours
One week one way
Louhans, Pontailler sur Saône : 172 km, 9 locks, 18 hours
Louhans, Chagny, Pontailler sur Saône : 213 km, 33 locks, 31 hours
Two weeks
Louhans, Digoin, Louhans : 384 km, 132 locks, 69 hours